Mô tả sản phẩm
• The M22's wide dispersion tweeter and articulated bass/midrange driver cast such an expansive and detailed soundstage that it will have you thinking the M22 is larger than it actually is. The M22, while possessing pinpoint accuracy, doesn't force you to lock your head in a vise to enjoy that all-important sweet spot.
• The M22's fit and finish is first-rate, looking best in cherry, but an elegant design statement in all finishes.
• Treble attenuation controls, located on the M22's backside, help with room placement and integration.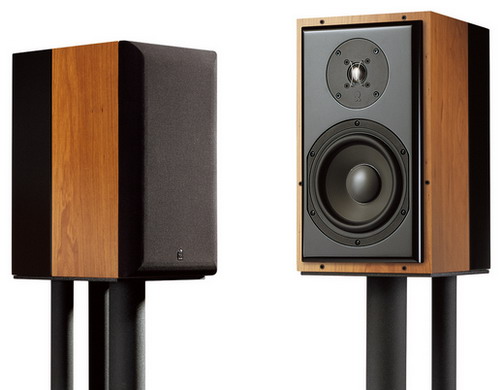 Low Points
• Because of the two-way design, you'll want to bring a subwoofer or two to the party to obtain a truly full-range performance from the M22. By adding a subwoofer, the M22's actual cost of ownership does go up, but this is the case with most if not all $2,000 monitors.
• The M22 is not a terribly efficient loudspeaker, which means you're going to spend a bit more on electronics than you might with other monitors in the M22's class. The extra money for better power will reward you in spades, but it will cost you a little more dough to get to the audio promised land.
• The M22s are monitor loudspeakers, not bookshelf speakers, which means you're going to need a pair of stands. Revel makes a pair (sold separately, $220 per pair), which are essential to get the most from the M22s.
Conclusion
At $2,200 per pair, the Revel Performa M22s are quality monitor speakers that are class-leading in both price and sound. While the necessary stands and sub will drive the M22s buy-in up a bit, you're going to be hard-pressed to find a monitor speaker that bests the M22s' performance this side of $5,000. The way the M22 presents music and even movies is staggering, possessing a sonic oneness that will make you forget you're listening to speakers at all. The soundstage and detail the M22s are capable of is something that must be heard to be appreciated. The M22s are truly great and a phenomenal, affordable addition to the Revel lineage.
Thông số kỹ thuật
| | |
| --- | --- |
| Hãng sản xuất | REVEL |
| Loại | • Surround |
| Tần số thu sóng tối thiểu (Hz) | 46Hz |
| Tần số thu sóng tối đa (kHz) | 20kHz |
| Trở kháng (Ω) | 6Ω |
| Mức độ âm thanh (db) | 87dB |
| Kích thước (mm) | 368 x 219 x 302 |
| Trọng lượng (kg) | 10.8 |