PRECISION MONITOR 4 is a full range reference monitor designed specifically for superlative tonal and spatial accuracy. Recovery of fine low-level detail, maximum possible resolution, transient accuracy, and exceptional dynamic contrast were our specific design goals. Accurate tracing of all waveform parameters, without exaggeration or artifact is the hallmark of the Precision Monitor 4, a transparent window into the heart of recorded music.
Each model of The PRECISION MONITOR Series will bring image specificity and spatial detail to a precise and dynamic soundstaging envelope. Frequency and phase responses follow the benchmarks set by SAGA and TESSERACT for accuracy; each model is a floor standing monitor-quality reference transducer. Each design in the PRECISION MONITOR series incorporates the latest proprietary phase linear topologies and high current capabilities developed for SAGA. Spatial detail in a panoramic presentation with micro-dynamic contrasts will be their hallmarks.
We have created an exclusive visual surface for the PRECISION MONITOR Line. Each model will be available exclusively in our Polychrome Precision surface, with options for standard-sheen or high-gloss lacquer. The Polychrome Precision surface takes on the color and lighting of the environment, making it extremely neutral and versatile for placement in any décor.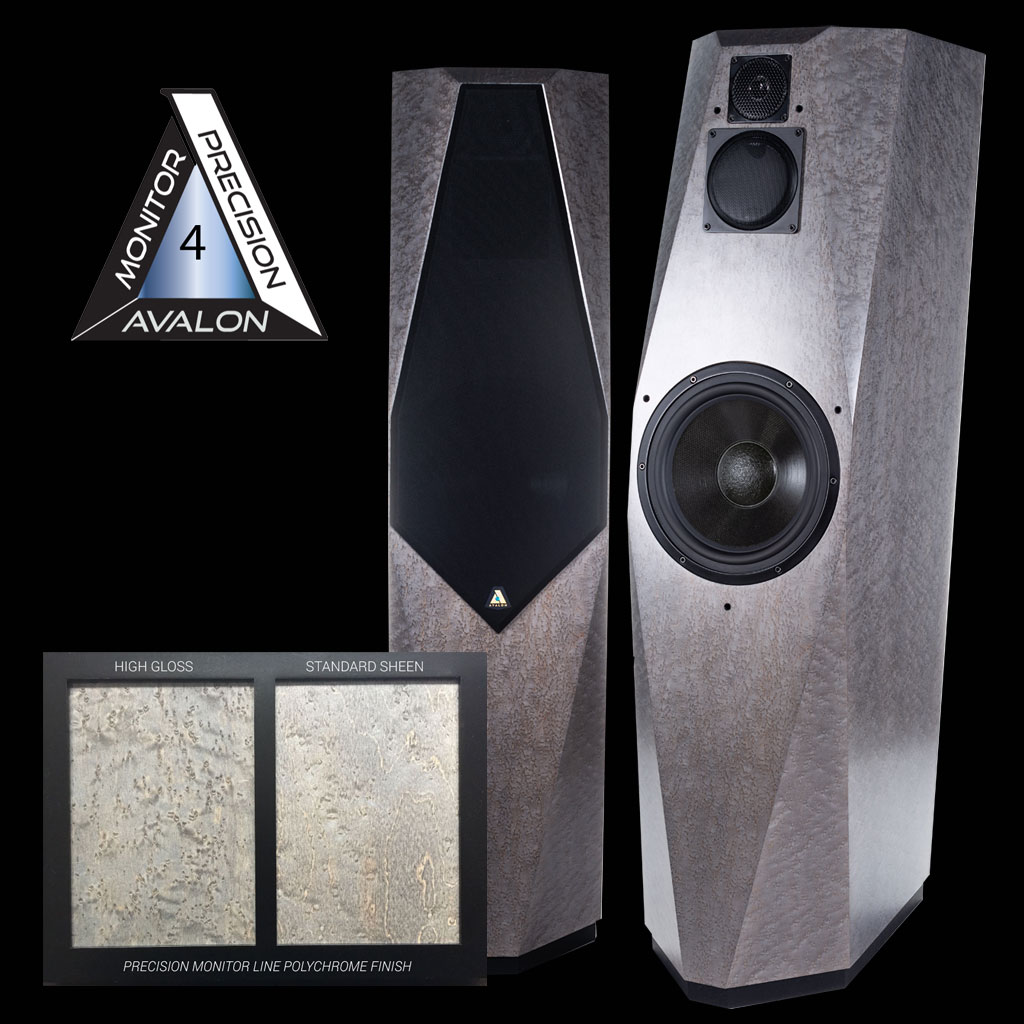 FEATURES
Proprietary Silent Inert Cabinet material/process.
Advanced light weight driver diaphragm materials minimize energy storage and time-domain distortion.
Each driver individually tested and matched for optimum performance.
Smooth, wide polar response for superlative imaging capabilities.
Exceptionally flat impedance characteristics, damped and purely resistive, for ideal interface with high speed/high resolution amplification.
Crossover circuitry is hard-wired with surface-only conductors, eliminating deleterious sonic effects of printed-circuit boards.
Proprietary all-phase crossover topologies. 5 degrees phase deviation from 0 dB to -76dB (all drivers)
Careful crossover control of all magnetic field interaction.
Proprietary magnetics technology increases energy transfer and reduces noise floor.
Constrained-mode damping system absorbs cabinet vibrations.
Three dimensional staging through meticulous 2pi-4pi baffle shaping.
Purely pistonic driver behavior. No diaphragm break-up modes within 76db of signal.
Acoustically inert wave launch platform.
Thông số kĩ thuật:
| | |
| --- | --- |
| Specifications | |
| | 1" Concave Diamond Diaphragm tweeter |
| Driver Complement: | 3 1/2" Concave Ceramic Dome Midrange |
| | 11" Nomex Kevlar Composite Cone Woofer |
| Sensitivity | 89 dB |
| Impedance | 4 Ohms Nominal |
| Frequency Response | 24Hz to 50kHz |
| Recommended Amplifier Power | 25 to 400 Watts |
| Wiring Methods | Two Position Binding Post |
| Dimensions | 49" (125 cm) High |
| | 12" (30 cm) Wide |
| | 17" (43 cm) Deep |
| Weight | 175 Pounds (79 kg each) each |